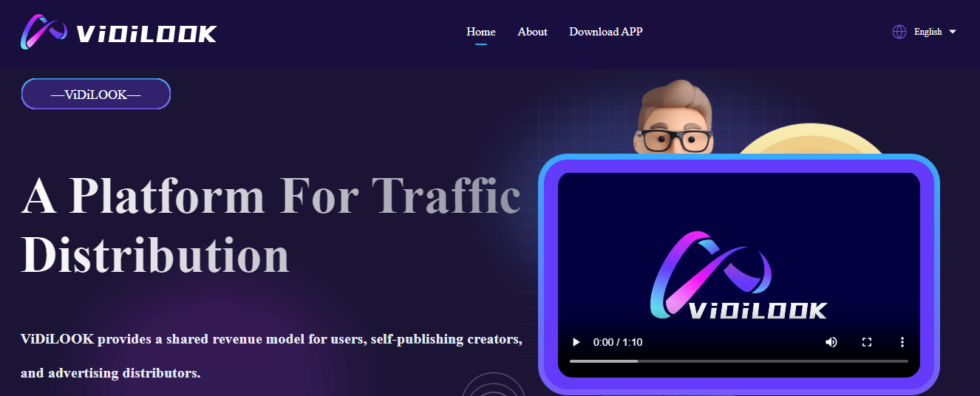 Vidilook Review 2023 – Is Vidilook Platform Safe?
While cryptocurrency has created new economic opportunities, it has also led to several significant scams. One such business that has been making waves in the cryptocurrency world, but not for the intended reasons, is Vidilook.
The company Vidilook (vidilook.io) received notice lately for its assertions that blockchain technology will transform the advertising and content production sectors. However, questions have been raised over the organization's viability and validity.
This Vidilook review will define its claimed methods of operation, investment alternatives, affiliate ranks, compensation scheme, and warning signs that have raised doubts in the community. Through analyzing these aspects, our goal is to gain a thorough understanding of Vidilook.
Vidilook Website – https://vidilook.io/
 Address – Silicon Valley
 Warned By – Not Recommended By Review Website Like Scams Report
Vidilook Overview
Vidilook describes itself as a blockchain-based platform that combines blockchain technology with media advertising. It seeks to establish a decentralized ecosystem in which contributors such as content creators, users, screeners, and constructors can all receive rewards.
Based in Silicon Valley, it is purportedly funded by KC Company and Sequoia Capital.
Warning Signs
Before making an investment in Vidilook, be aware of certain serious warning signs. Vidilook appears to be a respectable and profitable online earning opportunity.
1. A lack of openness
The lack of any information about the Vidilook Team is a serious red flag.
After looking through their website, we were unable to find any information regarding the people who own or run the business. Potential investors should be wary of making any financial commitments due to this severe lack of transparency.
2. Inactive remark
The company's assertion that it has partnerships with multibillion-dollar advertising firms is another thing to think about. As was already said, this accusation is probably baseless, and anyone who understands digital advertising knows that it is within the conditions of service for authorized ad networks to pay users to view or click on advertisements.
3. Model of Ponzi Schemes
Vidilook review complaints suggest that Vidilook functions based on the principles of a Ponzi scheme. Commissions on new recruit investments are sent to affiliates, while cash from later investors are used to create the promised returns to investors. Because of its unsustainable nature, schemes of this kind frequently collapse when the inflow of fresh capital breaks off. If you're considering Vidilook login, it's crucial to be aware of these concerns and exercise caution.
4. Insufficient Real Products
One feature of Ponzi schemes that is common to them is the absence of real goods or services. Investing money and finding new affiliates seem to be the main priorities instead of providing concrete goods or value.
5. The Founder's History
Regarding Sam Lee, who owns Vidilook and serves as Vidilook CEO, his involvement in a prior Ponzi scheme casts doubt on both his motivations and the legitimacy of Vidilook as a whole.
How is it Operated?
The primary means by which users interact with the material and receive prizes on Vidilook is via its app for mobile devices. By giving users VDL tokens, the app rewards users for watching advertising. Downloading the app, making an account, and actively engaging with the advertisements are all encouraged for users.
The reward for watching these ads is VDL tokens, which users can earn. The tokens can then be traded for various cryptocurrencies on exchanges that have support or are kept in an app's wallet. Giving people a means to make money from the time and attention they spend watching adverts is the idea behind this reward system.
Though the company advertises itself as an investment plan provider and network that pays customers for watching advertisements, questions have been raised over the legality and long-term viability of the business.
Vidilook Review – Conclusion
Vidilook presents a number of warning signs that prospective investors should take seriously. Its exaggerated assertions of collaborations and dependence on financing and hiring as the main revenue streams further undermine its credibility.
To safeguard yourself from potential financial hazards, it is necessary to carry out an in-depth study and confer with financial professionals prior to considering any interaction with Vidilook.
If you have experienced online fraud, please get in touch with Scams Report. Do not give up if you have experienced a significant financial loss. We are available to help you get your money back!
Our Social Pages
Note: The information provided in the above Vidilook review is derived from existing web Vidilook reviews. Please be aware that we cannot be held liable for any legal action taken by Vidilook company. If you have any inquiries or concerns, kindly reach out to us via email at admin@scamsreport.net.