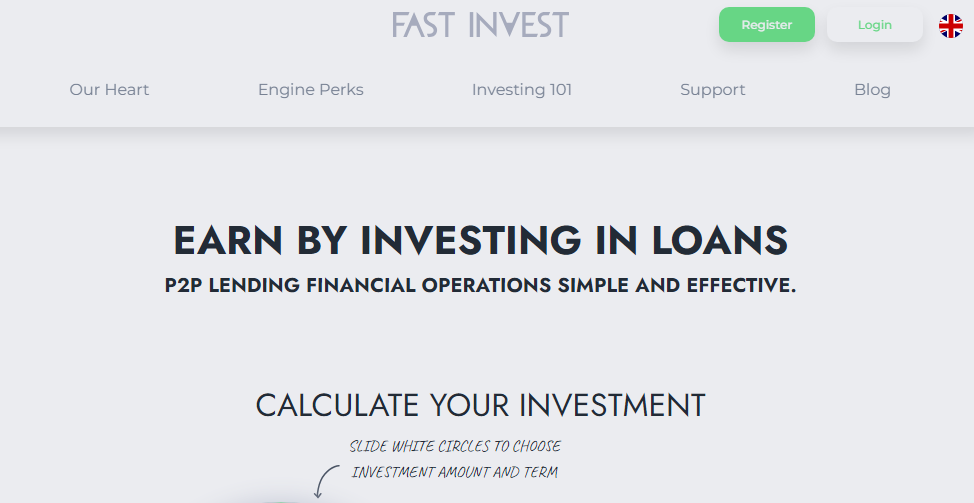 Over the preceding years, the P2P investment platform FAST INVEST has managed to attract significant attention from investors throughout Europe. With this in mind, we opted to conduct a more comprehensive examination of the platform.
If you're investing via this platform, we advise you to read this FastInvest review. Doing so will provide you with a more comprehensive understanding of their company and P2P lending platform.
Website – https://www.fastinvest.com/en
Official Address – Harjumaa, Tallinn linn, Tornimäe tn 5, 10145, Estonia
Warned by standard regulating authority – Commissione Nazionale per le Società e la Borsa (Italy)
Regulation Status- Unregulated
Domain Status
| | |
| --- | --- |
| Domain Name | fastinvest.com |
| Date Registered | February 17, 2005 |
| Domain Age | 18 years, 5 months, 28 days, 16 hours, 33 minutes, 4 seconds |
FastInvest Review: Regulation
FastInvest made the conscious choice to exercise an exceptionally high level of discretion regarding their loan originators. Fundamental details pertaining to the identities of these originators or their financial performance were consistently withheld from investors.
With the benefit of hindsight, I wouldn't even entertain the idea of entrusting my hard-earned money to a platform that doesn't provide such fundamental information, given the knowledge I possess now.
Questionable Terms & Conditions
One of the most notable warning signs we encountered during our investigation of this platform is the lack of information available to investors regarding the specific location of their investments.
When you invest funds with Fast Invest, you're left unaware of the destination of your money. As evident from the image provided in the platform's terms, there exists no loan agreement accessible for investors to review, as Fast Invest refrains from divulging such details.
FastInvest Review: Customer Support
Although the company is officially registered in the UK, Fast Invest's central office is situated in Lithuania, serving as the operational hub for their team.
Customer support has demonstrated enhanced responsiveness in recent months, though it's advisable not to set overly high expectations.
For those new to P2P lending, we recommend directing your investments toward platforms that offer greater transparency and comprehensive support. 
Minimum Deposit Amount
With Fast Invest, you have the option to initiate investments with as little as €1 per loan, facilitating convenient portfolio diversification. While extensive diversification holds significance, it's imperative to have a clear understanding of where your money is being directed.
Unfortunately, with Fast Invest, this clarity is lacking, rendering investments on this platform considerably risky.
Lack of Transparency
Frequently, Fast Invest has faced criticism for its conspicuous lack of transparency. Among the P2P lending platforms, it stands out as one of the few that chooses not to divulge the identities of all the loan originators whose loans are featured on the investment platform.
Conclusion
Fast Invest falls short of being our preferred platform primarily due to its opacity and the CEO's association with fraudulent activities. None of the other platforms we've assessed thus far have encountered challenges when revealing information about their loan originators.
Numerous investors have raised concerns about withdrawal delays lasting as long as four weeks. Such prolonged delays raise suspicion, especially considering that investor funds should ideally be segregated in separate accounts and accessible without undue hindrance.
If you find yourself ensnared by a deceitful broker, swift action becomes paramount. To start, cut off all communication with the scammer to prevent further damage. By filling out a complaint form on our website, you'll be granted a free consultation with our team of specialists. Our goal is to assist you in efficiently tackling your circumstances and discovering a resolution to overcome the challenges you're facing.
Our Social Pages
Note: The information provided in the above FastInvest review is derived from existing web FastInvest reviews. Please be aware that we cannot be held liable for any legal action taken by FastInvest company. If you have any inquiries or concerns, kindly reach out to us via email at admin@scamsreport.net.