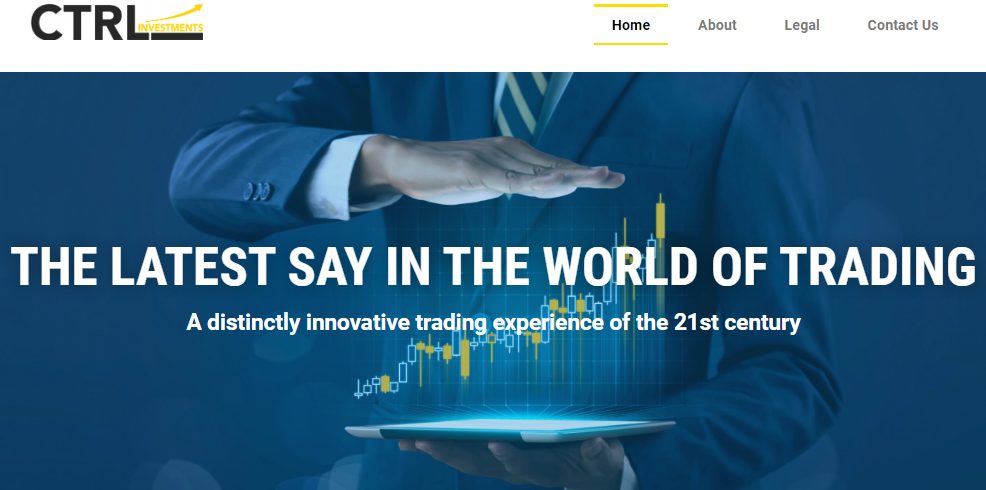 CTRL Investments Limited Review: Introduction
CTRL is a well-recognized name in the corporate arena. The company's mission revolves around the accessibility of global corporate data to all interested parties. Based in Canterbury, New Zealand, it is a registered firm with significant ties to the Stock Exchange Industry.
Ctrl Investments, a broker with licenses in both New Zealand and Australia, has attracted controversy and raised some concerns. Traders' reviews strongly suggest that exercising caution when dealing with this broker is advisable. In the forthcoming CTRL Investments Limited review, we will delve into the reasons behind this cautious approach.
Website – https://www.ctrlinvestments.com/
Address – L 3, 50 Victoria Street Christchurch Central Christchurch, CANTERBURY, 8013 New Zealand
Warning – Not recommended by the review website like Scams Report
Domain Age –
| | |
| --- | --- |
| Domain Name | ctrlinvestments.com |
| Date Registered | December 18, 2019 |
| Domain Age | 3 years, 9 months, 1 day, 2 hours, 11 minutes, 51 seconds |
CTRL Investments Limited Review: Regulation
The Financial Markets Authority (FMA) is in charge of overseeing CTRL Investments Limited, a trading corporation with its main headquarters in New Zealand. Our review of their database demonstrates that CTRL INVESTMENTS is listed as a broker.
Apart from being supervised by the FMA, Ctrl Investments is also subject to control by the esteemed Tier 1 regulator, the Australian ASIC.
It's important to remember that the FMA has previously taken corrective action against this broker for breaking the rules. Even though they have cooperated and fixed the problems, there is still worry that there might be further breaches in the future.
Positively, CTRL Investments gains from ASIC and FMA's dual regulation. Nevertheless, there are also significant disadvantages, such as a murky withdrawal procedure and a lack of transparency. Their past transgressions of regulations cast doubt on their dedication to observing them going forward.
CTRL Investments Limited Review: Trading Platform
Ctrl Investments provides access to the acclaimed MetaTrader 4 (MT4) platform, renowned for its exceptional features. MT4 offers users a user-friendly interface, advanced charting capabilities, real-time market updates, automated trading options, support for multiple timeframes, and more.
Additionally, CTRL Investments Limited offers a web-based trading terminal, albeit with fewer advanced features. This alternative platform provides basic charting and graphing tools but falls short when compared to the robust capabilities of MT4.
CTRL Investments Limited Review: Trading Conditions
CTRL Investments Limited asserts its status as a commission-free broker, and in terms of spreads, they are variable. For the widely-traded EUR/USD pair, the spread commences at approximately 1.8 pips.
While this spread is slightly higher than the industry's typical 1.5 pips, it remains within a reasonable range. However, the broker's leverage offerings raise some questions. CTRL Investments Limited claims to provide leverage of up to 1:200, but it's worth noting that Australian regulations imposed a 1:30 leverage limit for retail clients in 2021. It remains uncertain whether the broker has adjusted to adhere to ASIC's leverage restrictions.
Is it safe to invest with CTRL Investments Limited?
Beyond their regulatory framework, there is a noticeable absence of compelling offerings from СTRlinvestments.com. Furthermore, their terms and conditions appear to be inadequately articulated, lacking substantial and informative content.
Primarily, the website seems rather sparse, with minimal information provided. Notably, the sole prominently available detail pertains to funding methods. The broker purports to have no deposit or withdrawal fees and accepts payments via debit/credit cards and wire transfers. Regrettably, certain e-payment and cryptocurrency options are conspicuously absent from their list of accepted methods. It's essential to note that withdrawal processing may require up to five days.
CTRL Investments Limited Review: Conclusion
CTRL Investments Limited presents a rather enigmatic scenario. From our perspective, entrusting this broker, given its assertive approach towards new clients and undisclosed fees, appears questionable. With an initial investment of $250, there are numerous reputable brokers in the market, all duly regulated by Tier 1 financial market authorities.
If you've encountered any instances of CTRL Investments Limited violating terms and conditions or if you're experiencing withdrawal complications with this broker, we encourage you to reach out and inform us.
To get a free consultation with our fund recovery service specialists, fill out the complaint form on our Scams Report page. Our professionals will walk you through the process and put forth great effort to help you get your money back.
Our Social Pages
Note: The information provided in the above CTRL Investments Limited review is derived from existing web CTRL Investments Limited review. Please be aware that we cannot be held liable for any legal action taken by CTRL Investments Limited company. If you have any inquiries or concerns, kindly reach out to us via email at admin@scamsreport.net.