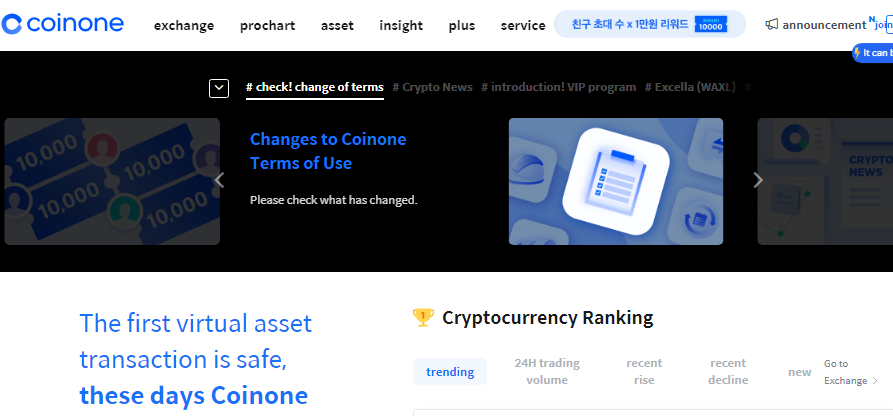 Cryptocurrencies have gained immense popularity over the years, offering investors a new avenue for financial growth. However, with the rise of the cryptocurrency market, there has also been an increase in fraudulent activities. One such example is Coinone, a South Korean cryptocurrency exchange that has been embroiled in a series of controversies and allegations of scamming its users. In this article, we delve into the dark side of the Coinone scam and shed light on the various scams associated with the platform.
Coinone Website – https://coinone.co.kr/
Coinone Warned By – Not Recommended By Review Website Like Scams Report
Coinone Address – Seoul, Seoul-t'ukpyolsi, South Korea
Background on Coinone
Coinone was founded in 2014 and quickly gained recognition as one of South Korea's leading cryptocurrency exchanges. The platform claims to provide users with the ability to trade various cryptocurrencies, including Bitcoin, Ethereum, and Ripple. Coinone's rise to prominence was largely attributed to the increasing demand for cryptocurrencies in South Korea and its reputation for secure and reliable services.
The Coinone Scam Allegations:
Lack of Transparency: Coinone has been criticized for its lack of transparency in its operations. Users have reported difficulties in obtaining clear and accurate information regarding fees, transaction processes, and platform policies. This lack of transparency raises suspicions and creates an environment conducive to scams and fraudulent activities.
Security Breaches: Coinone users have reported security breaches and unauthorized access to their accounts. Some users claimed that their funds mysteriously disappeared or were transferred to unknown addresses without their consent. These incidents raised concerns about Coinone's security measures and the safety of users' assets stored on the platform.
Insider Trading: There have been allegations that Coinone was involved in insider trading, wherein privileged information was used to gain an unfair advantage in trading. This practice undermines the integrity of the market and erodes trust among investors. Coinone faced accusations of providing preferential treatment to certain individuals or groups, enabling them to profit at the expense of ordinary users.
Legal Actions and Repercussions
The allegations of scams and fraudulent practices prompted regulatory authorities to investigate Coinone. In 2018, the South Korean Financial Supervisory Service (FSS) conducted an on-site inspection of Coinone and imposed a fine of 25 million KRW (approximately $22,000) for its insufficient anti-money laundering measures. While this action was related to anti-money laundering compliance rather than the scams specifically, it highlighted the regulatory scrutiny faced by the exchange.
Coinone's Response and Future Outlook
Coinone has denied the allegations of scams and fraudulent activities, asserting that they adhere to all legal requirements and have implemented robust security measures. The exchange claims to prioritize customer satisfaction and strives to maintain a trustworthy platform for cryptocurrency trading.
However, the damage caused by these allegations has significantly impacted Coinone's reputation. Many users have withdrawn their funds and shifted to other exchanges that are perceived as more reliable and secure. Rebuilding trust in the cryptocurrency community will be a formidable task for Coinone in the coming years.
Conclusion
The Coinone scam allegations have exposed the dark side of the cryptocurrency exchange industry. While the company denies the accusations, the reported incidents of wash trading, insider trading, security breaches, and lack of transparency have raised concerns among investors.
Cryptocurrency users must conduct thorough research and exercise caution when choosing an exchange platform. Regulatory bodies also need to remain vigilant and take swift action against exchanges found to engage in fraudulent activities, ensuring the integrity and stability of the cryptocurrency market.
What to do if you are scammed by Coinone? 
If you believe that you are a victim of a Coinone scam or any other cryptocurrency or forex scam then you will be able to file a complaint against the scam broker. You have to fill out a complaint form on our website and get a free consultation from experts in the fund recovery process. To know more about cyber security read this complete cyber security post.
To file a Quick Complaint against a scammer and Get a Free Recovery Consultation – Click Here
Our Social Pages
Note: The information provided in the above Coinone review is derived from existing web Coinone reviews. Please be aware that we cannot be held liable for any legal action taken by Coinone company. If you have any inquiries or concerns, kindly reach out to us via email at admin@scamsreport.net.