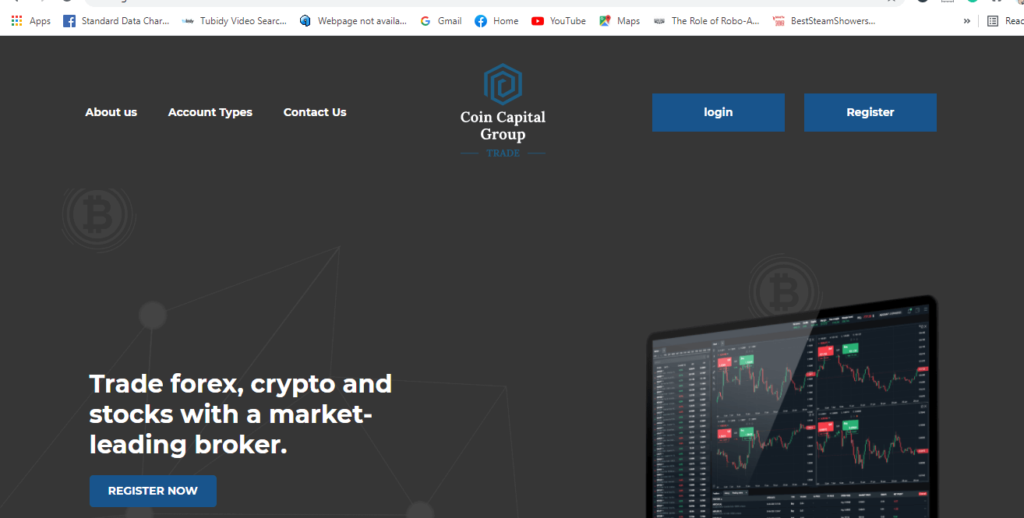 CCG Trade is an offshore broker and it is an unreliable one. Please read the CCG Trade review before investing.
Website – http://ccg.trade/
Official Address – NA
Warned by regulating authority – Financial Conduct Authority (United Kingdom)
CCG Trade Review: Introduction
CCG Trade, an online trading platform that offers CFDs and binary options trading, has been the subject of a number of reviews by industry experts. While the company has built an impressive presence in the online trading space with its sophisticated tools and user-friendly interface, it has also been accused of running a scam due to numerous complaints about withdrawal requests not being honored and customer service being difficult to get in. touch with. Despite this, many customers have reported successful transactions and there is no evidence to prove that CCG Trade is running any fraudulent activities. That said, exercise caution when considering using this platform and stay informed on all its policies before making any investment decisions.
CCG Trade is an offshoot of Capital Circle Group or Coin Capital Group. They were also known as Bitex. The owner of CCG Trade is unknown. They have three related websites, namely https://ccg.trade/, https://ccgtraders.net/, and https://bitex.trade/. They also have many email IDs. support@ccg.trade, support@ccgtraders.net, kate.b@ccg.trade, and support@bitex.trade. Their phone numbers are +442045489805, +442039126957, 02045489805, and 02039126957.
To know more about CCG read our CCG Trade review. Read how you can get your hard-earned money back from them.
CCG Trade Review: Regulation
They have been scamming innocent customers for quite a while now. They are an anonymous online trading broker and nothing much is known about it. None of their websites are working and are down. There is no information about its owner, important persons who are running the show, where their headquarters is, and governing law on its website.
Our investigation discovered that Bobby Singh, a British national, is the company director and he resides at Unit 22 B, Gallowgate, Glasgow, United Kingdom, G31 4EB.
We would like to inform you that always look for regulated firms that are regulated and approved by well-known regulating authorities like FCA, ASCI, BaFin, CySEC, SEC, CFTC, etc.
CCG Trade Review: Website
CCG Trade claims that investors choose them for the innovative technology they use. They claim they have the best security measures but investor's review is just the opposite. The website does not share its banking details. That means they do not have segregated accounts.
The domain was created on 24th June 2021. The domain name is very recent. The company also shows off that it has received multiple awards and recognitions in such a short span of its existence. However, they do not mention companies or titles they have received it from for their excellent services. As we know the company is a new one and the murkiness of the site, we think they have hardly won a single award.
Be careful of this broker, it can say anything just to gain the faith and trust of the investors/traders. They claim to have thousands of account holders, but till now we have not seen a single one. We have detected malware on this website. The owner of the domain has hidden its identity or is unknown. The website is controversial, questionable, and flagged.
CCG Trade Review: Accounts
Accounts offered by CCG Trade are Standard (minimum deposit $5,000), Silver (minimum deposit $10,000), Gold (minimum deposit $25,000), Platinum (minimum deposit $50,000), VIP (minimum deposit $100,000), and Pro (minimum deposit $500,000). It does not offer a demo account. That means, first pay and then see the functionality of the platform.
The leverage is 1:500 which is too high and is not permitted anywhere. The maximum leverage any regulated entity can offer is 1:30.
Why not trade with CCG Trade?
The regulatory status is unknown.

Owners and chief functioning officers are unknown.

Very high deposit for the primary account, $5,000.

The leverage is very high at 1:500.

There is no customer feedback, in other words, this entity is not paying.

It is exploiting the investors/traders.

Though the broker claims he is operating from the UK, there is no physical address available on the website.

Issued warnings by FCA (United Kingdom).
CCG Trade Review: Conclusion
Losing money to the scammer is a very heart-burning experience. However, you can get your money back if you file a chargeback at your earliest.
We, at Scams Report, believe that the victim should get a full chargeback. Your immediate action improves your success rate and the amount that can be recovered.
Report the scam to the appropriate authority in your jurisdiction. And file a complaint with us. We know methods how to obtain money from a CCG Trade scam whose website is not working.
We track the trail of money and track down the culprit. Fill in a free consultation form and submit it to us. Let us know your side of the story. We have expertise and experience how to deal with these scammers.  
We also have expertise in cryptocurrency scams, investment scams, forex trading scams, CFD trading scams, and binary options scams.
We hope this CCG Trade Review is helpful for you.
Visit  Scams Report Twitter  Page
Like  Scams Report Linkedin  Page
Scams Report Tumblr  page